Stillhouse Bottom Band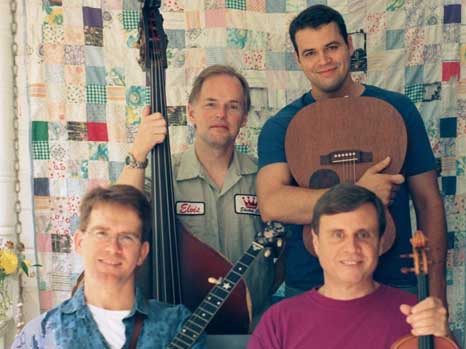 Mark, A.C., and Alan got together on New Year's Day, 2000, and had such a great time we decided to work up a few tunes and share them with the world as the Stillhouse Bottom Band. After a few months, we thought it would be nice to have a bass to round out the bottom, so we asked Bobb to join us, and we've been making great music ever since.
We like to think of ourselves as an old-time band, playing acoustic music with deep roots in rural North Carolina tradition, but can't deny that we have other influences. In our music you are certain to hear a little bluegrass, some classic country and a touch of the blues; you might even notice some rock, pop or jazz riffs. We grew up with all this great music and it just works its way in. Regardless of where it came from, the music we make is distinctly our own. We really enjoy it, and hope you will too.
Who Are We?
About That Name
Believe it or not, Stillhouse Bottom is a real geographic feature near Chapel Hill. It's a steep walled drainage that empties into Morgan Creek, and in earlier times it was home to a boot leg operation. These days, A.C.'s house sits quietly on the ridge where he communes with the ghosts of moonshiners past.
And, since you were about to ask, our band predates the wonderful movie O Brother, so we aren't tailcoating the Soggy Bottom Boys, honest!
Upcoming Events
Recordings
Thanks A Lot, 2005.
Bustin' It Up, 2002.
Hand Made, 2001. A truly hand-made recording, every copy was burned, each label printed, on Alan's home computer. If you ask nicely, he might make you a copy.
Best of Backporch Music, Volume 5. Our local NPR affiliate honored us by including one of our tracks on their annual best-of CD. Available to WUNC supporters.
We played some gigs back in the day.